Smart Charging uses algorithms to manage your charging sessions. Meaning you can smartly balance between demand from the cars and the available capacity at your grid connection.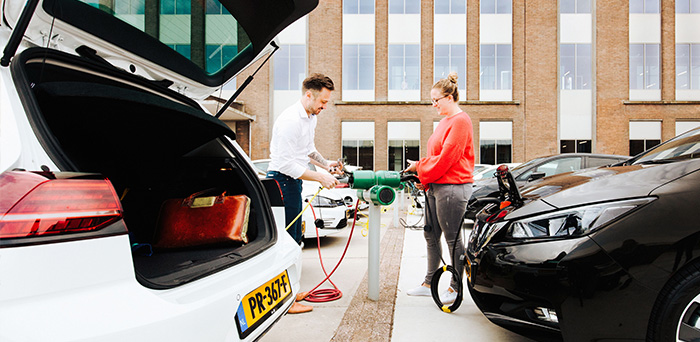 Who is it for?
Our ChargingPlaza are the perfect charging solution for locations with limited electrical capacity, a large number of electric vehicles, and flexible use by EV drivers. You want to serve all your employees, visitors and guests, but this rises questions such as:
How many charging sockets do I need and can I increase that number later?
How much power do I have available and how many charging sockets can I install?
How can I do this as efficiently and inexpensively as possible?
More charging sockets. Lower costs.
As the demand for electric charging grows, you will find yourself facing high costs for increasing your capacity. Our ChargingPlaza make smart use of the capacity you have available, helping you to avoid the extra investments that would be required to upgrade your systems or grid connection.
How smart charging works
EV drivers can charge at regular (3,7-22 kW) or fast speed (43 kW / 50 kW) just as they can at individual charging stations. Cars are charged in periods ranging from 20 minutes to eight hours. The charging speed is dependent not only on the type of vehicle, but also on the following factors:
Simultaneousness
Not all EV drivers need a full battery at the same time. The charging plaza allocates the available capacity to the charging sockets based on the demand at that given time, allowing EV drivers to charge their vehicles optimally. This is referred to as "load-balancing". Charging speed is adjusted automatically as soon as maximum capacity is reached.
Available capacity
Based on a capacity of just 3x63 amperes, 18 vehicles can be charged at the same time. Electrical capacity of at least 125 amperes is required for fast charging at the charging plaza.
Smart, attractive, and sustainable
You can choose to have individual charging stations controlled centrally from your meter cabinet. You can also decide on individual charging sockets that are centrally controlled from the parking location. All the connections, switches, and network technology are installed at the central control point at the parking location. The central control point and the charging sockets are integrated into their surroundings, making charging attractive to all!
Download: Smart Charging product sheet
Do you run a potential charging location?
If so then we can work together to analyse your location and find the best fit. Depending on the features of your location, we will then install one or more chargers.
We'd be happy to discuss our business models and service offerings with you. An appropriate solution is always available so get in touch and let's start the conversation.
Interested in going electric?

A fitting solution is always available!

Do you have a question or want to know more about our charging solutions? Please ask. We are happy to help you!
Fill in the form or get in touch:
E: sales@allego.eu
T: +31 6 11 46 15 21