Whether you want to serve your guests, employees or habitants. In private or public space. The regular AC charger is the perfect solution for longer stays (3-12 hours).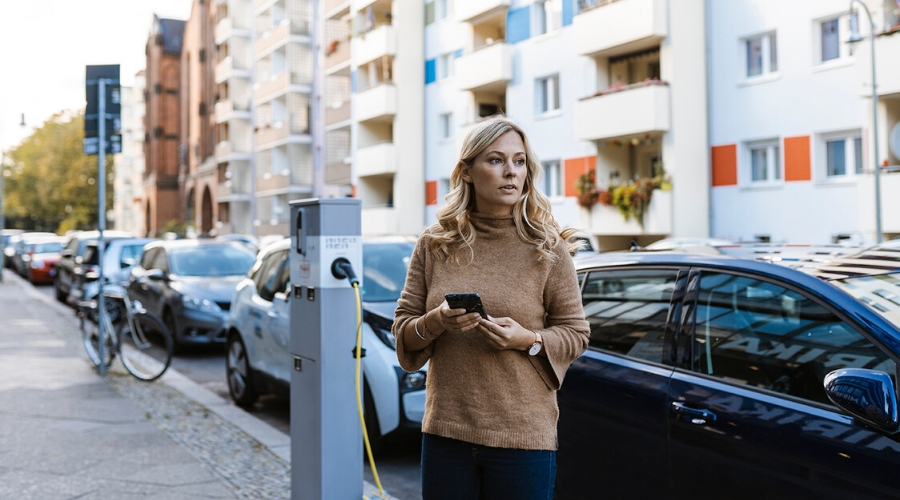 Who is it for?
Our regular chargers are intended for average- and longer-length charging sessions for EV drivers who remain at your location. Perfect for hotel guests who stay overnight or meeting participants. But of course also for day-long visitors, mall shoppers, or company staff at work.
A mix of services to get your prefect charging solution:
Regular chargers for private and public locations
Wallbox or pole, 1 or 2 sockets
We take care of the installation of the charger and location realisation (signing, parking lots)
All-in full-service during contract period (beyond manufacturer warranty)
24/7 e-driver support
Load balancing in case of multiple chargers possible to match grid capacity

Fleet or public customer? We offer a user friendly EV driver portal to request a home or a public charger
From charging station to charging plaza
You can start with a single charging station. The number of charging stations can be increased and connected to create a smart charging solution. In some cases, it may be better to start right away with a smart charging solution. We support you to make the right choice.
Download: regular charger product sheet (charging station)
Download: regular charger product sheet (wall box)
Download: regular charger product sheet (wall box mini)
How regular charging works
EV drivers charge at a regular charger between 3.7 and 22kW) This means that vehicles can be fully charged in periods ranging from 1,5 to 8 hours. Charging speed depends on factors such as the following:
The car
Most plugin cars, like the VW Golf GTE and the Volvo XC-60 and V60, for example, usually charge at 3.7 kW. With batteries ranging from 9 to 12 kWh, these vehicles are usually fully charged in three hours. Most full EVs charge at 7,4 (Nissan Leaf, Hyundai Ionic) or 11kW (BMW i3). The Tesla Model S and the Renault ZOE charge at a semi-fast rate. With a battery of 22 kWh the Renault ZOE, for example, is fully charged in one hour.
Simultaneousness
Our AC chargers have two charging sockets, which means that two vehicles can be charged at the same time. If a single car is being charged (and is suitable), it will receive the full capacity of a maximum of 22 kW.
In other words, if a single Renault ZOE is being charged, the vehicle will receive the full capacity of 22 kW and will thus be fully charged in one hour. If a second car then starts using the second charging socket on the same charger, the maximum capacity is divided between the two cars, so each would receive 11 KW and be fully charged in two hours.
Available capacity
To charge at a maximum of 22 kW per charger, you must have 3×32 amperes of electrical capacity available at each charger. If you have less electrical capacity available, charging capacity will decrease accordingly.

We can build networks around your needs, so even you can start with a single charging station they can easily be increased and connected. And even onboard you existing chargers which creates one single point of contact for all your charging service needs.
Do you run a potential charging location?
If so then we can work together to analyse your location and find the best fit. Depending on the features of your location, we will then install one or more fast chargers. We'd be happy to discuss our business models and service offerings with you. An appropriate solution is always available so get in touch and let's start the conversation.
Interested in going electric?

A fitting solution is always available!

Do you have a question or want to know more about our charging solutions? Please ask. We are happy to help you!
Fill in the form or get in touch:
E: sales@allego.eu
T: +31 6 11 46 15 21