Our ultra fast chargers are ideal for guests staying from 10 minutes to one
hour. After a quick stop and charge, ev-drivers can be on their way.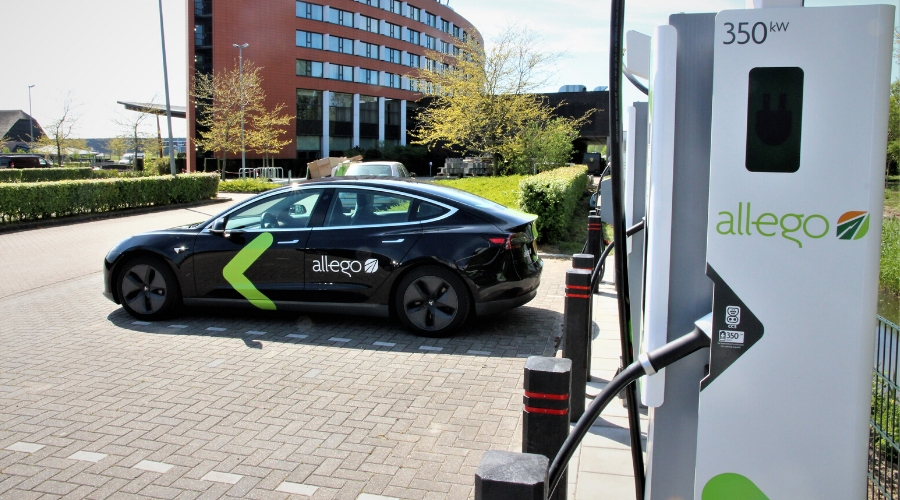 Who is it for?
Our ultra fast chargers are ideal for fuel stations, meeting venues or a roadside restaurant. After a quick stop and charge, ev-drivers can be on their way. But they are also ideal for EVs that need to be charged quickly, for example shared vehicles or e-taxis. The ultra fast charger is compatible with every electric vehicle with a DC fast-charge option.
How fast charging works
At Allego, ultra fast charging allow e-drivers to add a range of 125 to 250km to their car in just 10 minutes.
With maximum power of up to 350kW via a cooled cable, we proudly presents this fully connected flagship charging station.
A scaleable and future-proof solution to generate new business on your location, ideal on high-traffic locations (on highways, near a city ring or on in dense metropolitan area's).

Also known as high power charging (HPC) our ultra fast chargers service all common connectors of electric vehicles that support fast charging (meaning CCS and CHAdeMO in Europe). This unique buying reason sets us apart from other charge point operators, who only offer CCS on ultra fast chargers.
Tap and charge
Our ultra fast chargers are inter-operable which means charging and payment on an ultra fast charger has never been easier: Just tap your RFID card, NFC contactless payment card or use the Smoov app (iOS and Android). Allego supports RFID cards from all major mobility service providers and supports credit-card and debit-card payments as well on the majority of chargers.
Personalization
A high quality build and a robust enclosure ensure extended equipment lifetime, making it ideal for a wide range of installations, both indoors and outdoors.
The exterior of the charging kiosk (see picture) can be personalized with custom graphics, logo's and colors in alignment with the look-and-feel of your brand. The 15.6" touch-screen allows a simple and intuitive menu, a pleasant 'customer journey' with customized messages to ensure brand recognition.
Get your network optimized
An Allego ultra fast charger connected the Allego EV Cloud ensures connectivity and monitoring of the charger and its sessions. Our customer support team are there to help e-drivers 24/7 and the Allego preventive and corrective maintenance program help to ensure maximum availability of the charging station.
Ultra fast charging includes:
Charging at 160-175 or 350 kW (depending on configuration and car)
Both CCS and CHAdeMO connectors available
Future proof: compatible with charging speeds of new e-cars, like the Jaguar I-PACE, Audi e-tron, Tesla model 3 and Porsche Taycan.
Full service installation, customer support, monitoring, reporting, maintenance, operation, payments
Connected chargers that support international standards
Easy payments with NFC cards/devices, RFID cards or app
Interactive touchscreen
Branding and marketing tailored
Allego (Ultra) Fast Charger Corridor
Allego is developing and operating a Pan-European (Ultra) Fast Charger Corridor. Allego currently operates in the Netherlands, Belgium, Luxembourg, Germany and the United Kingdom. In these countries hundreds of fast chargers were installed already and more (ultra) fast chargers to follow. Among others via the Mega-E project.
Do you run a potential charging location?
If so then we can work together to analyse your location and find the best fit. Depending on the features of your location, we will then install one or more ultra fast chargers. We'd be happy to discuss our business models and service offerings with you. An appropriate solution is always available so get in touch and let's start the conversation.
Interested in going electric?

A fitting solution is always available!

Do you have a question or want to know more about our charging solutions? Please ask. We are happy to help you!
Fill in the form or get in touch:
E: sales@allego.eu
T: +31 6 11 46 15 21