Allego's fast chargers are ideal for guests staying from 15 minutes to one hour. Like supermarkets or meeting venues. After a quick stop and charge, ev-drivers can be on their way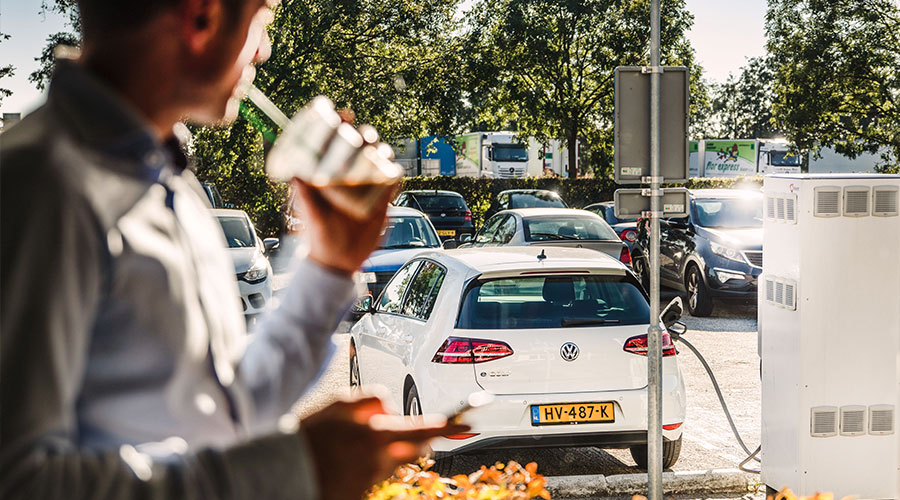 Who is it for?
Our fast chargers are ideal for shops, meeting venues or a roadside restaurants. After a quick stop, coffee and charge, ev-drivers can be on their way. But they are also ideal for EVs that need to be charged quickly, for example shared vehicles, e-taxis or fleet cars for large organisations. The fast charger is suitable for every electric vehicle with a fast-charge option.
An end-to-end charging solution for your location:
Supports all fast charge connectors, up to 50kW
Payment via RFID card, contactless payment (NFC) or EV-driver app Smoov
Customised charger branding and display possible
Installation of charger and location realisation (signing, parking lots)
All-in full-service during contract period (beyond manufacturer warranty)

24/7 e-driver support
Allego Fast Charger Corridor
Allego is developing and operating a Pan-European Fast Charger Corridor. Allego currently operates in the Netherlands, Belgium, Luxembourg, Germany and the United Kingdom. In these countries hundreds of fast chargers were installed already and more to follow.
Do you run a potential charging location?
If so then we can work together to analyse your location and find the best fit. Depending on the features of your location, we will then install one or more fast chargers. We'd be happy to discuss our business models and service offerings with you. An appropriate solution is always available so get in touch and let's start the conversation.
How fast charging works
EV drivers whose vehicles have a fast-charging option can charge at up to a maximum of 24kW (with a DC wallbox) or 50 kW ( with a multistation). In concrete terms, this means a fully electric vehicle can be charged between two-to-six times faster than a regular AC charger.

Charging and charging speed depend on the following factors:
The car
There are two most used fast-charging levels: AC (up to 43 kW) and DC (24 kW and 50 kW). Car manufacturers in Europe make use of three different types of plugs:
CCS Combo (DC), for example for the Jaguar iPace, Opel Ampera-e, BMW i3, VW e-Golf and Hyundai Ionic
CHAdeMO (DC), for example for the Nissan Leaf, Kia Soul EV and the Mitsubishi Outlander.
AC (AC), for example for the Renault ZOE and the Tesla Model S or X.
Allego's fast chargers comply with the international standards and are equipped with various types of plugs. This means that every electric vehicle with a fast-charge option is able to charge.
Battery capacity
The capacity and temperature of EV battery plays a major role in how quickly it can be fully charged. With the Allego multi-station an empty EV can add up to 100-150km in 30-45minutes. The DC Wallbox charges an empty EV with a battery capacity of 20 kWh in one hour. The speed is also dependent on the temperature and state of charge of the battery.
Simultaneousness
Our multistation fast chargers can charge simultaneously on AC and DC. That means that two vehicles can be charged at full capacity at the same time.
Available capacity
Parallel AC and DC charging at full capacity with the Allego multi-station requires electrical capacity of 3 × 125 Amperes at the location. Fast charging a single vehicle requires 80 amperes. Charging with the Allego DC Wallbox at the location requires electrical capacity of 3 × 40 Amperes. The electrical input of the Wallbox can be reduced to 3 × 32 Amperes. If you have less electrical capacity available, charging capacity will decrease accordingly.
Download: 50 kW Fast Charger product sheet
Interested in going electric?

A fitting solution is always available!

Do you have a question or want to know more about our charging solutions? Please ask. We are happy to help you!
Fill in the form or get in touch:
E: sales@allego.eu
T: +31 6 11 46 15 21